FLOATING PIER, PENNYGHAEL
CLIENT: UPM TILHILL
PROJECT OVERVIEW
TSL was contracted by UPM Tilhill, in collaboration with Pennyghael and Scoor estates, to install a floating Pier in Pennyghael, Isle of Mull. This would enable timber to be exported from the south of the Island.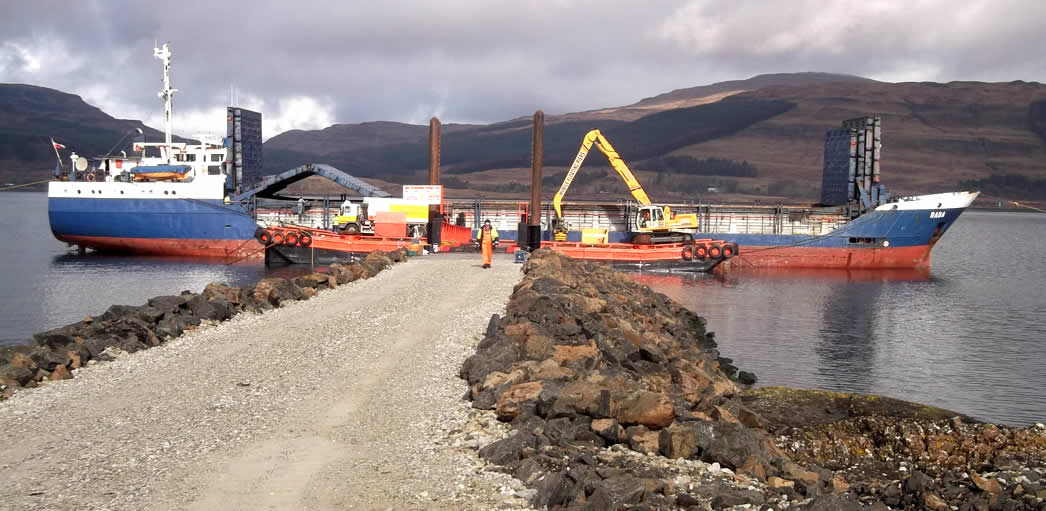 KEY CONSIDERATIONS
The pier was supplied by cargo handling specialists JST. A floating pier is the most suitable solution in this area as it minimises disruption usually caused by timber extraction, and the impact on restricted infrastructure on the island.
An otter mitigation plan had already been approved and otter crossings were built into the structure to minimise disturbance to wildlife in the area. This was overseen by UPM Tilhill's own ecologist.
OUR APPROACH
We excavated and created a loading area which included a causeway with a concrete end to support the pier. Materials were drilled and blasted at a nearby disused quarry and used for dressing. Basalt rock was broken out on site for primary armour and infill.
The project was completed in 2012.