MAINS WATER INFRASTRUCTURE, MULL
PROJECT OVERVIEW
TSL was contracted by Laing O'Rourke to install pipelines and associated equipment to improve the quality of the potable water supply to the village of Craignure on the Isle of Mull.
These works were carried out on behalf of Scottish Water and consisted of the welding and installation of over 17,000 metres of MDPE pipe, washout chambers, valves and fittings and the construction of five pipe bridges. TSL provided all plant, labour, and traffic management and also co-ordinated the works in partnership with Laing O'Rourke management.
The new pipe was mainly installed in the verge of the main road from the ferry port at Craignure to the islands capital, Tobermory. This route is vital to the travelling public and emergency services alike and as such had to be maintained in a good state of repair with any delays kept to a minimum and all Health & Safety and Traffic Management requirement were fastidiously maintained, with all works carried out within hoarded areas designed to provide protection to the public.
A proportion of the pipe route was through the main street of Salen village, which required particular cognisance to be taken of pedestrians in this residential area and the need to consult with the public and plan works so as to cause minimum disruption.
The pipe trench excavation was made more difficult due to the presence of significant areas of hard rock which required removal by hydraulic breaker while keeping at least one carriageway open at all times for the passage of traffic. In addition we encountered areas of Japanese Knotweed, which had to be dealt with in accordance with notifiable weeds legislation.
The project was completed with no lost time incidents, minimum nuisance to the public and within the timescale required and will provide the residents of Craignure Village with clean, safe potable water for many years to come.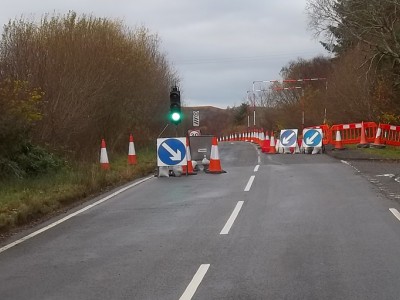 COMMUNITY AND ECOLOGICAL BENEFITS
TSL received recognition from many in the local community, through the assistance we provided to Laing O'Rourke for helping local people deal with the issues being impacted by the works. For example, we listened to the concerns of the Mull Otter Group and reacted quickly to direct works away from potentially sensitive areas. We contributed to building a wildlife 'hide' for use by the community and visitors to the Island, and ensured local events were catered for in terms of traffic management, to ensure residents lives were not adversely impacted by the works. We also received a letter of thanks from Laing O'Rourke for the significant role we played in helping them to achieve the high standards of delivery required for the award of 'Considerate Contractor'.