CLIENT: BEAR SCOTLAND
PROJECT MANAGEMENT: TRANSPORT SCOTLAND
MAIN CONTRACTOR: TSL CONTRACTORS
PROJECT OVERVIEW
TSL were contracted to remove and replace the existing Dearg Bridge, which is part of a five year upgrading scheme to widen and improve a total of seven structures located on the main A830 Fort William to Mallaig route; often described as 'the road to the Isles'.
DESIGN AND PROCESS
The process commenced by forming a full diversion route around the existing structure by installing a temporary Bailey bridge to allow TSL to completely remove the existing structure.
This was followed by installation of the new cast-in-situ concrete bridge, which increases the bridge span from 9 metres to 14 metres and creates an improved alignment on both approaches.
The new construction consisted of 42 tonnes of stainless steel rebar, over 200 m3 of concrete and finished with traditional stone work along all parapits.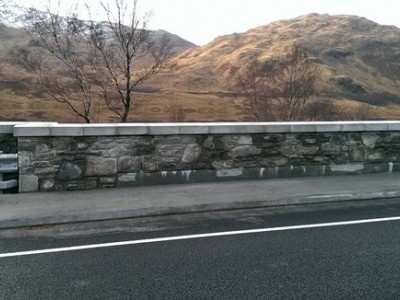 TRAFFIC MANAGEMENT
The site was under constant traffic management for six months, directed by TSL and undertaken by Alba traffic management. This allowed safe construction by protecting the workforce through implementing convoy management and lane changes.
ENVIRONMENTAL
The river Dearg is a spawning river for salmon within a 10 metre proximity to Lochailort, which is controlled a monitored by local fisheries, and this caused environmental challenges.
The job involved silt mitigation and constant monitoring by TSL and Bears environmental team, as well as otter protection.
The job was finished within the allocated timescales and to a standard of satisfaction to the client and the success of this project has resulted in a partnership with BEAR Scotland and securing a further two bridge bridges on the A830, Garbh and Utha.