COMMERCIAL PIER, FISHNISH, MULL
CLIENT: FORESTRY COMMISSION SCOTLAND
PROJECT OVERVIEW
TSL Contractors was commissioned to develop a commercial pier at Ledaig Beach, near Fishnish on the Isle of Mull. The location is a disused mineral extraction site which was formerly owned by TSL.
This is the only pier on Mull available exclusively for commercial use and is predominantly used to transport round timber from the island.
Before any work started, we carried out a particulate and noise survey to ensure we would not disturb the nearby salmon farm.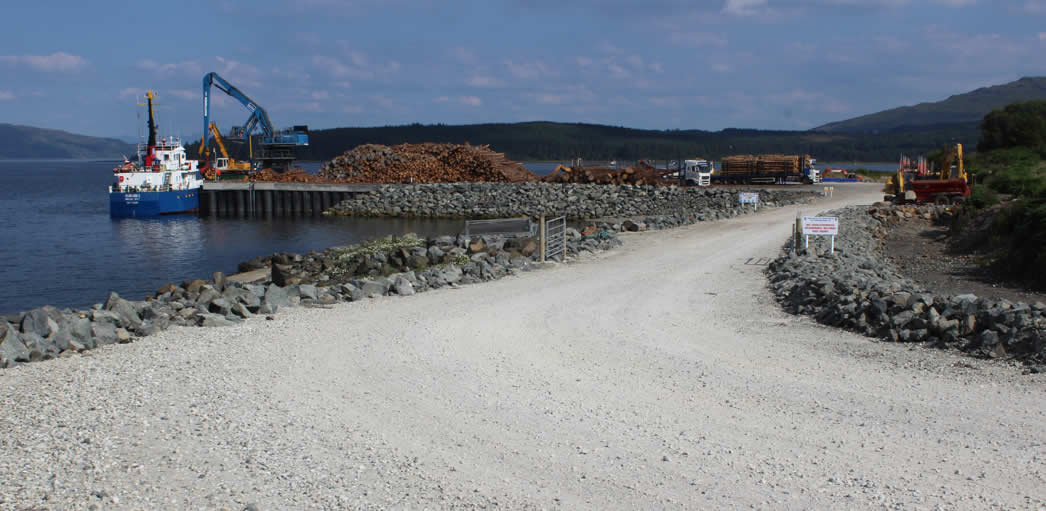 USING LOCAL MATERIALS
It was agreed that 30,000 m3 of rock would be blasted on forestry owned land, two miles from the site. This saved the client a considerable amount that would otherwise be spent on aggregates and transportation. A crusher and screener was put at the blasting site to grade the aggregates; a secondary screener was situated at the pier for selecting armour rock.
These aggregates were used as spec 6A fill suitable to fill to mid tide level.
DESCRIPTION OF WORKS
50 x 30 metre pier steel combi pile tubes (1,200mm diameter) were driven 20 metres below low tide level. 920 metres of Macalloy tie bars were then put in place to tie the walls of the structure. The combi piles were filled with structural grade concrete. Pre cast concrete copes were then added, followed by further infill and rock armour surrounding the pier and the pier was then finished with type 1.
COMPLETING THE PIER
After one year, to allow for any natural movement, we intend to add 600m3 of ready mix concrete to finish the surface, and install the weigh bridge.
In the area between low and high tide, anodes were fixed to the outside wall to provide cathodic protection.
The pier began operations in December 2013.
TSL's Managing Director Andy Knight said "This facility enables the timber export from Mull to be undertaken in an efficient and environmentally friendly manner, with a significant reduction in road haulage costs. We anticipate that it will help to open up new markets on the island over the longer term".