RESTORATION PROJECT, ISLAND OF ERRAID
CLIENT: FINDHORN FOUNDATION
PROJECT OVERVIEW
TSL was delighted to be asked to restore a small group of historic cottages on the island of Erraid. Famous for its strong connections with the Stevenson family, and the setting for Robert Louis Stevenson's Kidnapped, Erraid is linked to Mull by a beach, and is only accessible at low tide.
Tasked with returning the nineteenth century cottages to their original state, we looked forward to the double challenge of sourcing the original materials, and carrying out the work in a partially inaccessible environment.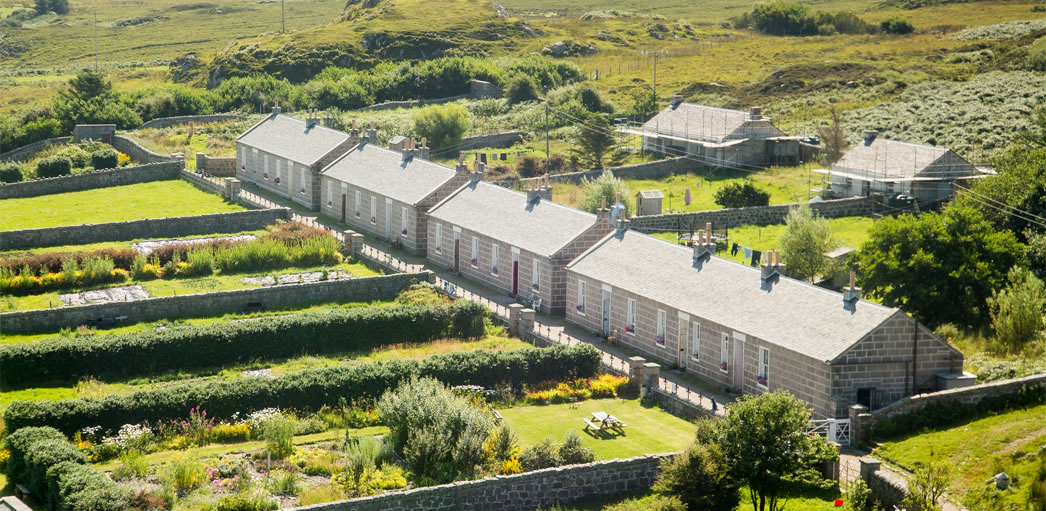 KEEPING COSTS DOWN
Working efficiently and effectively is a priority for all our clients, as it is for us too. To help keep costs down, we took over two nearby cottages to accommodate our workforce. Originally a bare shell, we installed a shower room, kitchen and three bedrooms. This will be left for the client when we complete the works.
WHAT WE DID
Using a combination of new and reclaimed materials — to match the pink granite, West Highland slate and traditional copper guttering — we've now completed a year's worth of interesting work that included:
STONEWORK
We sealed the beds and joints with a water based grout, before repointing them with two types of lime-based mortar, which matched the colour of the stonework
ROOFS
We stripped the existing slates, dressed and resized them, and, along with 75,000 reclaimed West Highland slates, re-slated the roofs. The lead flashings at skews and chimney heads were replaced with code 5 and code 7 lead.
ROOF STRUCTURE
We replaced a substantial amount of sarking, applied a breather membrane and sprayed the original roof timbers to make ready for the slates. We insulated the roof spaces to make the cottages easier to heat and keep warm.
CHIMNEY POTS
We replaced the old chimney pots with pots that matched as close as possible to the original size, colour and profile.
GUTTERING
New copper gutters and downpipes were installed. All water from the roofs is now collected and fed back into the properties.
FUTURE PLANS
We've recently secured the second phase of the contract, which includes:
• A complete water system which will collect, clean and pump rain water back to the properties for safe use
• New kitchens and bathrooms
• A new sewage system
• A pier crane to safely remove the client's boats from the water
Installing the crane requires a significant quantity of concrete. Having an operation on Mull means we can batch this at our Craignure depot, transport it by TSL concrete trucks and fly it to the island by helicopter – all part of the TSL wider group service.