HYDRO SCHEME, TORLOISK, MULL
CLIENT: TORLOISK ESTATE
PROJECT MANAGER: GREGOR CAMERON ASSOCIATES
DESIGN ENGINEER: ADRIAN LAYCOCK
PROJECT OVERVIEW
We were contracted by the Torloisk Estate to construct a 100kw Hydro Scheme during 2014. The project consisted of an in-situ concrete intake structure, 500 metres of 630m HPPE penstock with a large span pipebridge and a rendered blockwork powerhouse.
ECOLOGICAL CONSIDERATIONS
The scheme is situated in a highly visible scenic area and required sympathetic reinstatement with turf stripping and replacement. In addition, there were date restrictions relating to works in or adjacent to the watercourse, which made the timescale for the intake and outfall very short.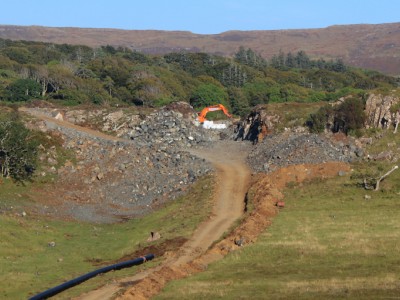 OUR APPROACH
Ground conditions on the majority of this site were good and we decided to adopt a light touch approach to cause minimum ground disturbance for the majority of the penstock route. There was however, an unavoidable 7m deep rock cut required to install the penstock adjacent to the intake area. We blasted and excavated approximately 6000 tonnes of hard basalt rock, which required storage in a temporary stockpile and was then replaced back over the pipe in order to preserve the original landform. This was accomplished to the satisfaction of all parties.
FINAL STAGES
Civil works were complete January 2015 and the project was handed over for turbine installation.