NEW RESIDENTIAL DEVELOPMENT AT DUNBEG
CLIENT: WHHA
PROJECT OVERVIEW
TSL was commissioned by West Highland Housing Association to build a new residential development consisting of 50 new flats and houses. The homes were to be built using traditional techniques and a community biomass system was to be incorporated. This shared sustainable heating system will benefit all residents and will also help to reduce heating costs for the home. The initial stage of the project was completed in May 2014.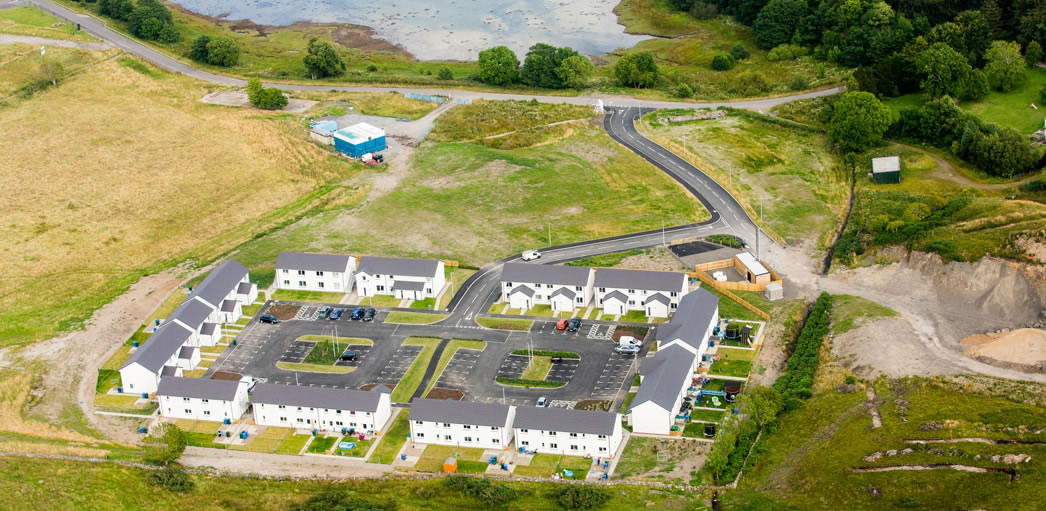 OUR APPROACH
The development is situated close to a site of archaeological interest. Before work started, and throughout the project, we took advice from and worked closely with Argyll Archaeology. Six Bronze Age round houses were uncovered after stripping off the top soil, and were carefully moved to another location.
Due to unstable ground conditions, we implemented an on-site borrow pit. This saved money for the client and helped us to reduce our carbon footprint. 75% of aggregates sourced from the borrow pit were used on the site, reducing the environmental impact of heavy vehicles in this populated area.
USING LOCAL MATERIALS
Due to the site's close proximity to a residential area, blasting needed to be highly regulated and carried out with great care.
In total, approximately 25,000 tonnes were blasted on-site. This was also processed by on-site crushers, which crushed to sub base and general fill standard. We used general fill from rock level - up to seven metres below foundation level - up to foundation level.
The material dug from the site was screened on-site to separate into oversize and 14mm and under. Oversize was used for draining and infill, 14mm and under was used as ballast for drainage and sub-floor base. This use of on-site materials resulted in considerable savings in aggregates, fuel and transport costs for the client.