PROJECT:ARDNACROSS HYDRO, ISLE OF MULL
CLIENT: ARDNACROSS FARM
PROJECT MANAGER / DESIGNER: ADRIAN LAYCOCK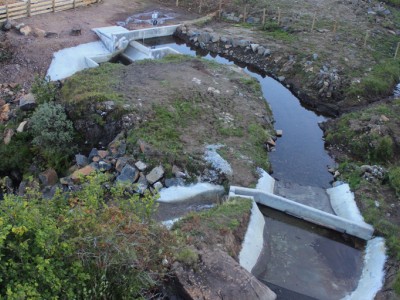 PROJECT OVERVIEW
This 100kw run of river hydro scheme was constructed by TSL at Ardnacross, located on the North East of the Isle of Mull.
The project consisted of a permanent access track, an in-situ primary intake structure, 1000 metres of 450 HPPE penstock and a concrete blockwork powerhouse.
The intake construction was unusual in that it was constructed in the dry to the side of the main river, with a channel diversion allowing water to access the intake.
The scheme was commissioned in August 2014 and the client is delighted with the results as it is producing in access of the projected electricity output.