A NEW SPORTS HALL FOR THE ISLAND OF COLL
CLIENT: DEVELOPMENT COLL
PROJECT OVERVIEW
TSL was delighted to undertake the build of a new £1.7m sports hall and associated bunkhouse on the Island of Coll. An Cridhe (Gaelic for 'the heart') was completed in summer 2012, and was winner of a Scottish Civic Trust 'My Place' award in 2013.
BACKGROUND
Designed by Anderson Bell Christie Architects, the project facilities included:
• A main hall for sports and performance
• Multi-function room for Argyll College
• Small meeting room, office and study
• Community living room with exhibition space
There is also a separate bunkhouse that provides accommodation for 14 occupants and revenue for the development.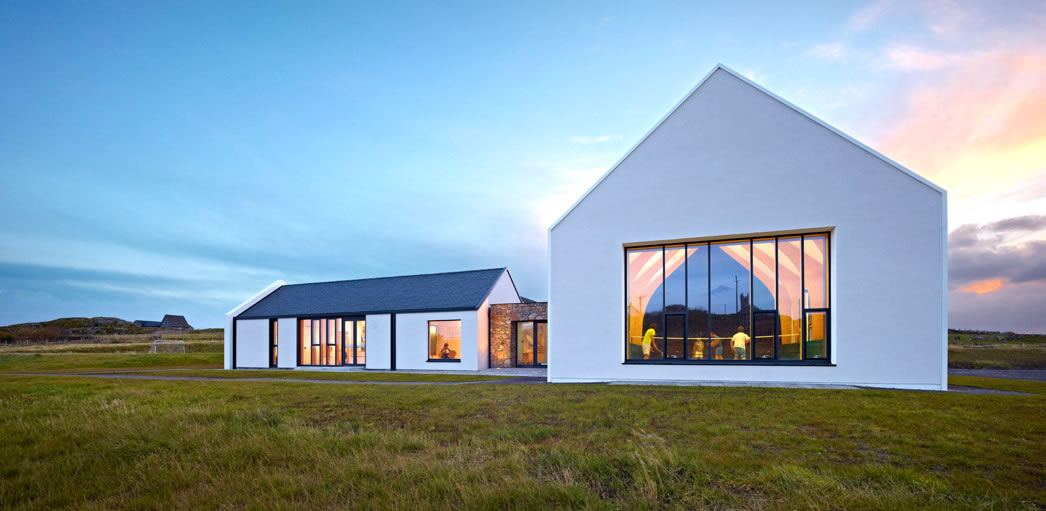 BUILDING CONSTRUCTION AND LOGISTICS
Construction was a timber frame, block build, with natural slate and aluminium flashings at ingoes, soffits and guttering. We shipped glulam beams from Scandinavia — the closest supplier able to offer beams of the size needed. These beams, other materials and plant and equipment posed their own logistical problems. With ferry crossings to the island taking around five hours each way, exceptional organisation was involved to ensure we had a full load for each journey to maximise transport efficiency.
To maximise operational efficiency, and reduce travelling times to the island, our site manager relocated to Coll for the duration of the project. We also employed three Coll locals and carefully planned our own employee rota.
Managing our carbon footprint
Aggregates were shipped by 700 tonnes barge loads. Sourced from mainland Argyll Bonawe quarry, barge was the most cost-effective way to transport aggregate to the island, and had the lowest environmental impact. As there is no concrete supplier on the island, 700 tonnes of ballast was used to make pan-mixed concrete for foundations and substructures amounting to 300m3 of concrete. SEPA regulations meant we had to be careful not to disturb natural water courses. We incorporated a sustainable drainage system that reduces the impact which the new building has on the surrounding water and natural draining of the area.
FINISHING TOUCHES
To optimise the on-going carbon footprint of the building, we installed air to water source heat pumps for heating, and solar panels to provide hot water to the bunkhouse.
The final element, an oak reception desk hand-carved by a local carpenter, was installed in summer 2012. An Cridhe was formally opened by Princess Anne, and celebrated by a three day festival.